PTFE

At Mech, we tailor each product to the customer's requirements. We are one of the largest PTFE manufacturers and PTFE stockits in India. Whether your request is for slit width, special tolerances, or custom sizes on material, you'll always get the service and product you need. We have wide ranges of PTFE gaskets in our stock as well.
Mech is one of the only processors to reprocess virgin PTFE in house, enabling us to control the quality of reprocessed material. We also offer which is blended in our plant to offer you a larger variety of virgin PTFE materials, along with a (Ultra PTFE) which is a Virgin PTFE with Bronze & Carbonfill PTFEior physical properties.
Browse through our online catalog below, and if you have any questions, please feel free to contact us. We're happy to help by answering any questions you have about and PTFE products or properties.
---
LINEAR BEARING GRADE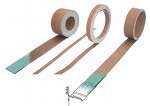 LINEAR BEARING GRADE represents a family of self-lubricating materials and is offered in standard sizes
Advantages
Excellent physical and mechanical properties
Self-lubricating with superior bearing performance
Good dimensional stability at operating conditions
Superior resistance to moisture absorption
High wear resistance
Low coefficient of friction
Outstanding chemical and corrosion resistance
Light weight and reduces noise chatter
LINEAR BEARING GRADE is oven annealed to reduce internal stresses
Method of Operation
LINEAR BEARING GRADE materials are used in dynamic load applications such as: bearings, thrust washers, bushings, gears, cams, spacers as well as in numerous other sliding or rotating components.
Bushings: radially loaded shafts, whether Carbon or Stainless Steel, can benefit from the use of LINEAR BEARING GRADE sleeve bushings
Thrust Bearings: under oscillating motion, these bearing materials exhibit excellent wear resistance, durability and no stick-slip. Axial- loaded shafts benefit from the reduced friction of the material
Linear Motion: for the benefits of efficient mechanical advantage, LINEAR BEARING GRADE leadscrew nuts provide low friction, reduced noise and combinations of high speeds/low loads or moderate speeds and loads
Pulleys: these bearing materials resist wear, self-lubricating, easily fabricated and can be incorporated into existing designs
Special Features
LINEAR BEARING GRADE was developed for general-purpose bearing applications. This grade exhibits an excellent surface finish when machined. Outstanding service life and superior chemical resistance are typical of LINEAR BEARING GRADE products. This grade excels in performance demands up to moderate loads and speeds.
LINEAR BEARING GRADE bearing grade material was developed to handle moderate loads in high-speed applications. Long service life, exceptionally low coefficient of friction with reduced noise plus high PV capabilities are some of the characteristic of LINEAR BEARING GRADE.
Technical Data
MATERIAL PROPERTIES
Tensile Strength @ Break ……… 7,600 psi 5,900 psi
Elongation @ Break …………… 15% 19%
Heat Deflection Temp. ………… 205°F 203°F
Max. Continuous Service Temp…… 180°F 180°F
Intermittent Service Temp. ……. 225°F 225°F
Linear Coef. of Thermal Exp…….. 5.2 in/in°Fx10-5 5.2 in/in°Fx10-5
Coef. of Friction (Non-Lub)……. 0.30 0.22
Wear Factor …………………. 43 in/(psi*fpm*hr) 20 in/(psi*fpm*hr)*10-10 *10-10
Limiting PV Value ……………… 7,500 psi-fpm 42,000 psi-fpm
Warter Absorption ……………….. .20% .20%

SKIVED PTFE SHEET
.001″ to .250″ thick in widths up to 72″ wide.
Virgin • Reprocessed • Bronze & Carbonfill PTFE
---

SKIVED PTFE TAPE
.001″ to .250″ thick in widths 1/2″ wide & wider.
Virgin • Reprocessed • Bronze & Carbonfill PTFE
---

MOLDED PTFE SHEET
3/16″ to 7″ thick in various sizes. Virgin • Glass-fill
• Bronze & Carbonfill PTFE
---

MOLDED PTFE ROD
3/4″ OD to 20 1/2″ OD in lengths of 3″ up to 18″.
Virgin • Glass-fill • Bronze & Carbonfill PTFE
---

MOLDED PTFE CYLINDER
1 1/8″ OD to 34 1/2″ OD in lengths of 3″ up to 18″.
Virgin • Glass-fill • Bronze & Carbonfill PTFE
---

EXTRUDED PTFE TUBING
1/4″ OD to 4 5/8″ OD in lengths of 6′ & 12′.
Virgin • Reprocessed • Glass-fill
---

EXTRUDED PTFE ROD
1/8″ OD to 4 1/2″ OD in lengths of 6′ & 12
Virgin • Reprocessed • Glass-fill
---

PRESSURE SENSITIVE PTFE TAPE
.003″ to .030″ thick in various widths up to 48″
Virgin • Reprocessed