Polyoxymethylene (POM / Acetal)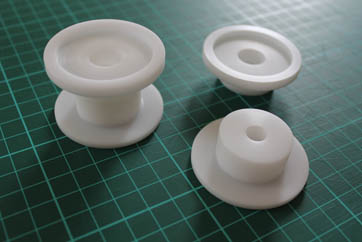 Polyoxymethylene (POM), also known as acetal or polyacetal and polyformaldehyde is an engineering thermoplastic used in precision parts requiring high stiffness, low friction and excellent dimensional stability. As with many other synthetic polymers, it is produced by different chemical firms with slightly different formulas and sold variously by such names as Delrin, Celcon, Ramtal, Duracon, Kepital and Hostaform.
Typical applications for injection-molded POM include high performance engineering components such as small gear wheels, ball bearings, ski bindings, fasteners, knife handles, and lock systems. The material is widely used in the automotive and consumer electronics industry.
General Properties :
Chemical Properties
Minimum value
Maximum value
Unit
Sources
Solidification shrinkage
1.8
3.2
%
Idemat 2003
Water absorption
0.25
0.25
%
Idemat 2003
Electrical Properties
Minimum value
Maximum value
Unit
Sources
Solidification shrinkage
1.8
3.2
%
Idemat 2003
Water absorption
0.25
0.25
%
Idemat 2003
Mechanical Properties
Minimum value
Maximum value
Unit
Sources
Bending strength
50
80
MPa
Idemat 2003
Compressive strength
31
31
MPa
Idemat 2003
Creep strength
-
-
MPa
-
Density
1410
1420
kg/mÂ3
Idemat 2003
Elongation
25
25
%
Idemat 2003
Fatigue failure
-
-
MPa
-
Friction coefficient
0.2
0.35
-
Idemat 2003
Impact strength
0.53
1.2
J/cm
Idemat 2003
Shear modulus
900
930
MPa
Idemat 2003
Tensile strength
69
72
MPa
Idemat 2003
Thickness
-
-
MPa
-
Thickness
-
-
MPa
-
Young's modulus
2900
3500
MPa
Idemat 2003
Optical Properties
Minimum value
Maximum value
Unit
Sources
Refractive index
1.48
1.48
-
Idemat 2003
Thermal Properties
Minimum value
Maximum value
Unit
Sources
Glass temperature
-
-
°C
-
Melting temperature
175
175
°C
Idemat 2003
Service temperature
-60
110
°C
Idemat 2003
Specific heat
1465
1465
J/kg.K
Idemat 2003
Thermal conductivity
0.23
0.37
W/m.K
Idemat 2003
Thermal expansion
81
104
e-6/K
Idemat 2003