Polyphenylene Sulfide (PPS)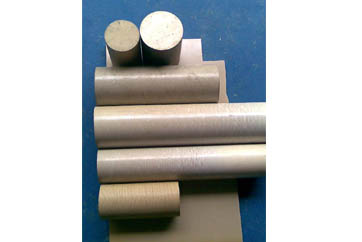 Polyphenylene sulfide (PPS) is an organic polymer consisting of aromatic rings linked with sulfides. Synthetic fiber and textiles derived from this polymer are known to resist chemical and thermal attack. PPS is used to make filter fabric for coalboilers, papermakingfelts, electrical insulation, specialty membranes, gaskets, and packings. PPS is the precursor to a conducting polymer of the semi-flexible rod polymer family. The PPS, which is otherwise insulating, can be converted to the semiconducting form by oxidation or use of dopants.
Polyphenylene sulfide is an engineering plastic, commonly used today as a high-performance thermoplastic. PPS can be molded, extruded, or machined to high tolerances. In its pure solid form, it may be opaque white to light tan in color. Maximum service temperature is 218 °C (424 °F). PPS has not been found to dissolve in any solvent at temperatures below ±200 °C (392 °F). An easy way to identify the compound is by the metallic sound it makes when struck.
PPS is one of the most important high temperature thermoplastic polymers because it exhibits a number of desirable properties. These properties include resistance to heat, acids and alkalies, and to mildew, to bleaches, aging, sunlight, and abrasion. It absorbs only small amounts of solvents and resists dyeing.
General Properties :
Physical
Nominal Value
Unit
Test Method
Specific Gravity
—
1.35 to 1.36
ASTM D792
73°F
1.31 to 1.81
g/cm3
ISO 1183
Melt Mass-Flow Rate (MFR) (315°C/5.0 kg)
75 to 200
g/10 min
ASTM D1238
Molding Shrinkage
Flow : 73°F
3.0E-4 to 0.014
in/in
ASTM D955
Across Flow : 73°F
4.3E-3 to 0.015
in/in
ASTM D955
73°F
0.18 to 2.3
%
ISO 294-4
Water Absorption (73°F, 24 hr)
0.020 to 0.031
%
ASTM D570
Mechanical
Nominal Value
Unit
Test Method
Tensile Modulus
73°F
325000 to 4.06E+6
psi
ASTM D638
73°F
491000 to 2.19E+6
psi
ISO 527-2
Tensile Strength
Yield, 73°F
7250 to 23200
psi
ASTM D638
Break, 73°F
7250 to 23200
psi
ASTM D638
Break, 73°F
9090 to 13400
psi
ISO 527-2
73°F
5880 to 25300
psi
ASTM D638
Tensile Elongation
Yield, 73°F
0.91 to 1.6
%
ASTM D638
Break, 73°F
0.40 to 4.1
%
ASTM D638
Flexural Modulus
73°F
348000 to 3.54E+6
psi
ASTM D790
73°F
522000 to 653000
psi
ISO 178
Flexural Strength
73°F
8340 to 36800
psi
ASTM D790
73°F
9320 to 22000
psi
ISO 178
Coefficient of Friction
0.090 to 0.40
ASTM D1894
Impact
Nominal Value
Unit
Test Method
Charpy Notched Impact Strength (73°F)
0.52 to 3.8
ft·lb/in

2

ISO 179
Charpy Notched Impact Strength (73°F)
0.52 to 3.8
ft·lb/in

2

ISO 179
CharpyUnnotched Impact Strength (73°F)
0.52 to 24
ft·lb/in

2

ISO 179
CharpyUnnotched Impact Strength (73°F)
0.52 to 24
ft·lb/in

2

ISO 179
Notched Izod Impact (73°F)
0.46 to 1.5
ft·lb/in
ASTM D256
UnnotchedIzod Impact (73°F)
1.0 to 37
ft·lb/in
ASTM D256
Hardness
Nominal Value
Unit
Test Method
Rockwell Hardness (73°F)
92 to 126
–
ASTM D785
Thermal
Nominal Value
Unit
Test Method
Deflection Temperature Under Load
66 psi, Unannealed
531 to 538
°F
ASTM D648
66 psi, Unannealed
531 to 538
°F
ASTM D648
264 psi, Unannealed
214 to 512
°F
ASTM D648
Melting Temperature
532 to 536
°F
ISO 11357-3
CLTE
Flow
7.3E-6 to 2.9E-5
in/in/°F
ASTM D696
Flow
2.8E-6 to 3.5E-5
in/in/°F
ISO 11359-2
Transverse
2.8E-6 to 3.5E-5
in/in/°F
ISO 11359-2
Thermal Conductivity (73°F)
2.0 to 140
Btu·in/hr/ft

2

/°F
ASTM C177
Electrical
Nominal Value
Unit
Test Method
Surface Resistivity
6.0 to 2.5E+15
ohms
ASTM D257
Volume Resistivity
73°F
10 to 2.5E+16
ohms·cm
ASTM D257
73°F
1.0E+11 to 2.0E+16
ohms·cm
IEC 60093
Dielectric Strength
73°F
400 to 450
V/mil
ASTM D149
73°F
430 to 770
V/mil
IEC 60243-1
Dielectric Constant (73°F)
3.00 to 3.05
ASTM D150
Dissipation Factor
73°F
6.5E-4 to 5.0E-3
ASTM D150
73°F
6.5E-4 to 5.0E-3
IEC 60250
Arc Resistance
118 to 125
sec
ASTM D495
Comparative Tracking Index
100 to 151
V
IEC 60112
Injection
Nominal Value
Unit
Drying Temperature
250 to 325
°F
Drying Time
3.0 to 6.0
hr
Drying Time
3.0 to 6.0
hr
Suggested Max Moisture
0.015 to 0.020
%
Rear Temperature
464 to 613
°F
Middle Temperature
567 to 625
°F
Front Temperature
584 to 613
°F
Nozzle Temperature
580 to 617
°F
Processing (Melt) Temp
596 to 635
°F
Mold Temperature
292 to 316
°F
Injection Pressure
8700 to 16500
psi
Holding Pressure
6530 to 10500
psi
Back Pressure
45.0 to 230
psi
Screw Speed
55 to 128
rpm